Eco-friendly is part of who we are
We're lucky enough to welcome you to New Orleans, a city defined and shaped by its waterways. The city itself is built around the curves of the Mississippi River, giving it a distinct quarter-moon shape along with its famous moniker—The Crescent City.
With the Mighty Mississippi revealing her gifts to us every day, we wanted to find a way to return the favor. And so we set to work making our boutique hotel as environmentally friendly as humanly possible.
Let's take a peek into the green practices at Kimpton Hotel Fontenot.
Nespresso Nirvana
Our in-room Nespresso machines make java lovers rejoice. Not only do you get the perfect individual serving of coffee, saving water and waste, but our hotel also participates in the Nespresso capsule recycling program.
*Machines are available on request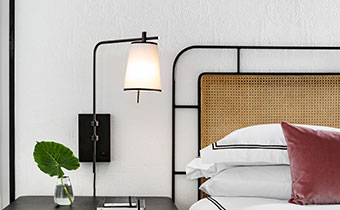 Efficiency Shines
All light fixtures in our guestrooms, corridors and public spaces use energy-efficient LED bulbs.
Go with the Flow
Even our toilets are in the sustainability game. We've installed low-flow, low-flush commodes to conserve water.
If you're serious about protecting the earth, know that you have a kindred spirit in Kimpton Hotels — and Kimpton Hotel Fontenot in particular. Come for a visit. We'll make sure you have a sustainable stay to remember.